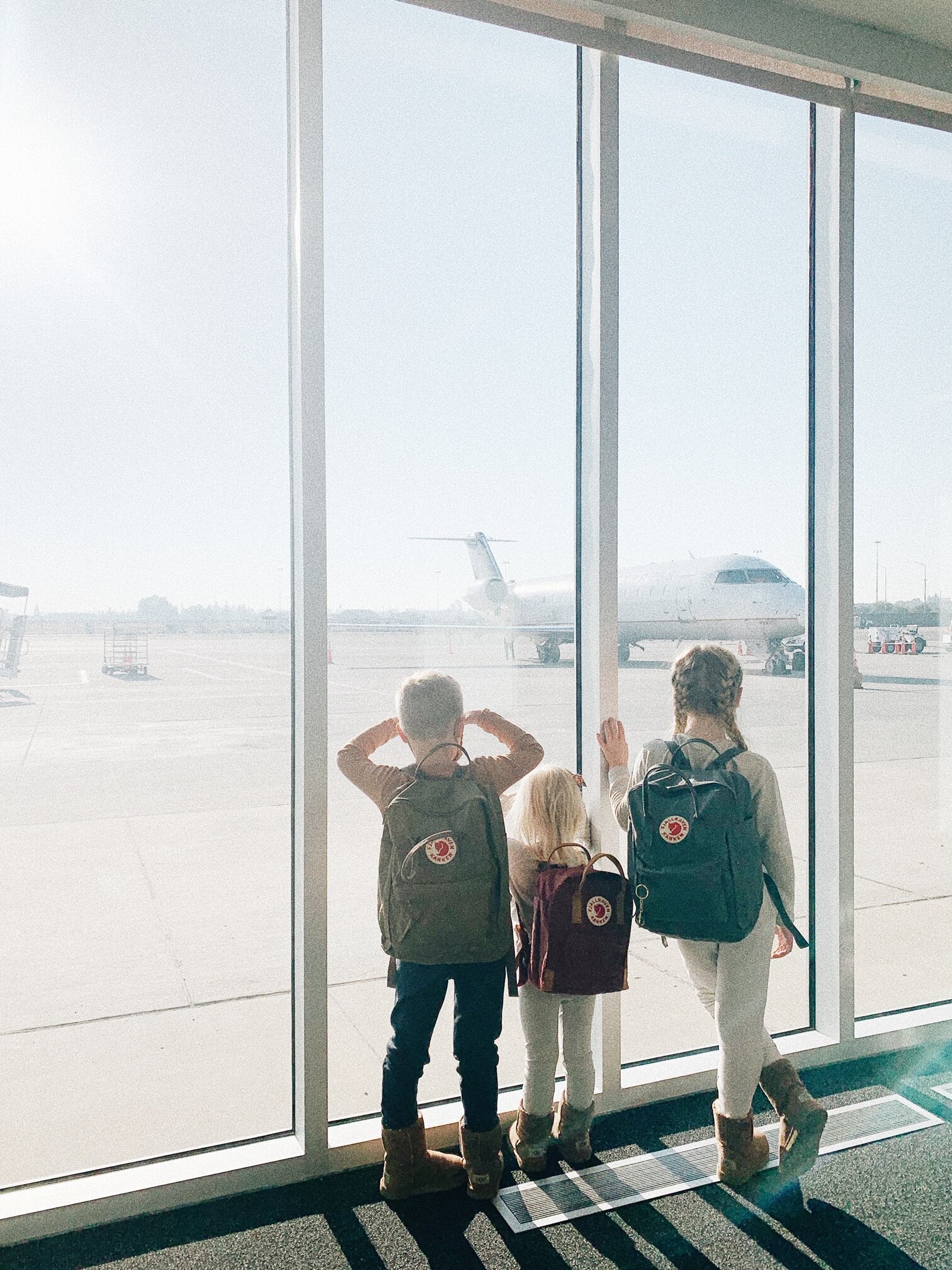 Prior to 2020, we had been taking at least two big trips a year, and some smaller ones in between for work. We've always brought the kids along for both, because exploring with our children and showing them different parts of the world, are both incredibly important to us. When we first began traveling and flying with our kids, we were a bit of a hot mess. I remember when we first went to Canada, we just had Daphne and Sullivan at that point, and had no idea what we were doing. There was an instance of us all running through the Seattle airport trying to catch our flight after sitting in the security line for hours, barely making it in time, and all of our stuff, including two large car seats, conveniently tumbling to the ground the moment we got to gate. Yep, we were those people. So needless to say, we began to learn more and more with each trip about how to simplify, to make traveling as a family as easy and enjoyable as possible. Here are some things we do…
Get TSA precheck if you plan on flying at least a couple of times a year. It was only $85 for each of us (my husband and myself) and the kids are covered under us. It's also good for 5 years. No taking shoes off, and you can glide right through security in the precheck lane. It's been so worth it for us.

Only bring carryons. I never check bags. No stopping at the counter when departing, no waiting at the carousel upon arriving. You get a carryon and a personal item per seat booked, so it's actually more than enough room to pack everything you need, even for cold weather climates.

Be sure to check in to your flight before heading to the airport. You can stick your boarding passes into your Apple wallet and they are right there for you.. no need to wait in line at the counter.

Pack each kid a backpack with snacks and activities. They can carry these through the airport and they count as their personal item. Plus they have access to their own snacks and activities. My kids get zero tablet time except for on flights. I download them each a couple of movies to watch on the plane, and because it's the only time they get to do that, it makes it special for them! I also pack sticker books and coloring pages as well.

Bring empty water bottles. Most airports have water bottle filling stations you can fill up at to avoid paying $8 for a bottle of water.

Pack each child a thin swaddle blanket. These can be used as blankets, pillows, or in the year of 2020, my kids put them over their heads to watch their movies so that they can take their masks off (this worked great, but I can't take credit for the idea! It was my sister's friend, Amanda who shared this!).

Invest in a riding carryon if you have a toddler. I bought a little riding carryon for Marigold on eBay for under $100. It fits everything I needed to pack her and daphne, and she could ride it through the airport, omitting the need for a stroller.

Wear baby in a carrier that is easy to take them in and out of. Some airlines require you to take baby out of a carrier for take off and landing. I adore the Solly wrap and pack it for the rest of the trip, but I wear the baby in either my Happy Baby carrier or sling through the airport because they are easier to get him into while scrunched in an airline seat.

Wear a soft, thin scarf. I wear my cashmere one because it can also double as a blanket, pillow, nursing cover, or swaddle for the baby. And because you can wear it, it won't take up any room in your bag.
Place a Walmart pick up order near your destination, so that when you arrive, you can swing by and grab your groceries. This makes it easy to keep a somewhat healthy and normal diet while on vacation, and it helps to make it more cost effective since you can eat breakfast at your Airbnb and also pack lunches some days as well. We even make dinner a few nights while we are gone because sometimes it's easier after a long day to just hang at the house with little ones.

Rent car seats with your rental car. It's a pain to try and fly with them unless you are buying a seat for your baby and using your stroller. Since we don't do either, it's easier to get car seats with our rental car. They aren't the highest quality, but they work.
I always cosleep with my babies, and the big kids sleep just fine wherever I put them (which even in a four bedroom Airbnb end up being on the floor of my room lol), but if you are need of a pack n play, crib, anything baby gear related, you can actually rent it at your destination through a website like babyquip or babysaway. They meet you at the airport and give you everything you ordered, or you can even have it delivered to your hotel! You can also rent through kid&coe.com if you need a kid friendly rental since they are all equipped with everything you would need from high chairs to nurseries!

Pack immune boosting supplements. I packed Mary Ruth immune gummies with vitamin C, echinacea, zinc and elderberry for us all, and took those and probiotics everyday of our trip. Although we do splurge a bit more of treats while away, I also make sure we don't overdo it since processed sugars will suppress immunity. I packed sanitizing wipes and little bottles of thieves hand sanitizer in each of the kids' backpacks so that they could wipes down their area on the planes and use sanitizer on their hands before eating.
*And because I know many are wondering, after 6 flights over the past 8 days, I wanted to just simply share our experience:
Despite the horror stories circulating, it was super easy and we had no issues. Our experience was that everyone was kind! I highly recommend flying Delta. Four of our six flights were delta, and the experience was great. Marigold is 3 and did not wear a mask. Delta's website states that everyone must wear a mask except for children under two or young children unable to wear one. They never said anything about her needing one. The bigs only wore theirs to board the flight, then they snacked or watched their movies under their "tents." Everyone on our flights was kind, and the attendants were all great. I'm so grateful for a good experience!
We've made so many memories traveling with our kids, and honestly the more we do it, the easier it becomes. I know it might feel scary to travel right now, but I'm thankful to report, we had a great experience! We live modestly in order to be able to travel because it's uninterrupted time together exploring God's beautiful creations, and it just doesn't get much better than that!